Friedrich Douwes, MD
Medical Director and Clinic Founder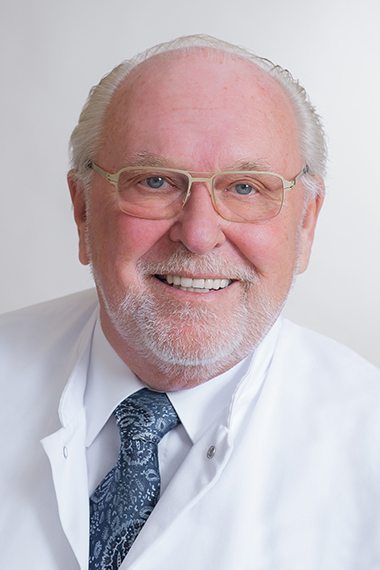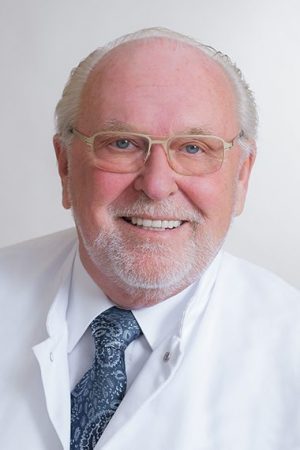 Curriculum Vitae
Education and professional activities
1962-1967

Medical School (Universities Marburg, Heidelberg, Zurich/Switzerland, Detroit/Michigan) and promotion (M.D.)

1967-1969

Philadelphia General Hospital: Internship/Residency

1969-1970

Hahnemann Universität, U.S.A.: Fellowship, Hematology and Oncology

1970-1975

University Hospital Göttingen, Medical Department: Residency
Board certificate Internal Medicine

1975-1979

University Hospital Göttingen: Senior physician oncological department;
Several publications pertaining to tumor biological problems and tumor immunological problems

1980-1987

Sonnenberg-Klinik, Bad Sooden-Allendorf: Medical Director and Chief Executive Officer of the fully licensed Hospital for Oncology, Hematology and Immunology

1987-1991

Veramed-Klinik Brannenburg: Medical Director and C.E.O. of the Hospital for Oncology, Hematology and Immunology

1991 to present

Medi-Therm Kliniken GmbH & Co. KG, Klinik St. Georg, Bad Aibling: Medical Director and C.E.O. of the Hospital for Oncology, Hematology and Immunology
Further Qualifications
Qualification ultrasound diagnostics
Qualification gastroscopy, rectoscopy, colonoscopy and duodenoscopy
Qualification diagnostic radiology
Assignee transfusion medicine according to hemotherapy guidelines
Additional title medicinal tumor therapy
Appointments and Activities
President of the Deutschen Gesellschaft für Onkologie e.V (German Society for Oncology)
Founder and chairman of Freundeskreis ganzheitlicher Krebstherapie – Gesellschaft für gemeinnützige Krebshilfe e.V.
Post Editor Deutsches Journal für Onkologie (German Journal of Oncology; 1987 to 1991)
Post Scientific Board Chairman of Gesellschaft für biologische Krebstherapie e.V. (German Society for Oncology)

Vice President of Österreichische Gesellschaft für Onkologie (Austrian society for Oncology)

Appointment to the Senate of Forum Via Sanitas, Austria
Cooperation with Sichuan Academy of Medical Sciences and Sichuan Provincial-People's-Hospital, China

Cooperation witht Eo Life Co. Ltd., Taiwan
Professorship at the Steinbeis Business Academie/Steinbeis-Academy, Berlin
Awards
Research Award for groundbreaking clinical research in the field of oncology with cytoplasmic organ factors (1984; Gesellschaft zur Erforschung der makromolekularen Organo- und Immunotherapie e.V. / Society for the Exploration of the macromolecular organo- and immunotherapy e.V, Munich)
Awards for research and papers in hyperthermia, electro therapy in cancer patients (1995; Köhnlechner Award)
Lifetime Achievement Award (2013; The Academy of Comprehensive Integrative Medicine ACIM)
DGHT Award for the Assessment of Hyperthermia (2016; Deutsche Gesellschaft für Hyperthermie e.V.)
Certificate of Appreciation for Contribution to the Field of Lyme Disease (2017; Harvard Medical School)
Memberships
Deutsche Gesellschaft für Onkologie e.V. (German Society of Oncology)
Berufsverband deutscher Internisten (Association of German Internists)
Deutsche Gesellschaft für Onkologie und Hämatologie (German Society of Oncology and Hematology)
Deutsche Gesellschaft für Hyperthermie e.V. (German Society for Hyperthermia)
Österreichische Gesellschaft für Onkologie (Austrian Society for Oncology)
Ärztliche Gesellschaft für Ozon-Anwendung in Prävention und Therapie e.V. (Medical Society for Ozone Application in Prevention and Therapy)
Europäischen Gesellschaft für angewandte Immunologie e.V. (European Society for Applied Immunology)
Verein für Selbsthilfe in der Krebsvorsorge und Krebsnachsorge Traunstein e.V. (Association for Self-help in Cancer Care)
Deutsche Gesellschaft für Innere Medizin (German Society of Internal Medicine)
European Anti Aging Academy
Research
Hyperthermia, immunology, electrotherapy in cancer patients
Phase 2 Study for the treatment of advanced pancreatic carcinoma with regional hyperthermia and cytostasis with mitomycin C and 5-fluorouracil / folinic acid.
Retrospective analysis in localized prostate cancer with transurethral hyperthermia and temporary, ablative hormone therapy.
Immunoregulation study at chron. Borreliosis with SWBH 2009.
The effectiveness of extreme systemic whole body hyperthermia (SWBH) in the therapy of chronic borreliosis.
Treatment of malignant gliomas with ACNU / regional hyperthermia.
Treatment of advanced pancreatic cancer with chemotherapy combined with regional hyperthermia.
Transurethral prostate resection (Floratos et al.) Transurethral microwave hyperthermia (Floratos et al. Transurethral electro-hyperthermia (Douwes et al.) N = 66.
Whole body hyperthermia in combination with carboplatin and cyclophosphamide to overcome multi-drug resistance (MDR) in patients with advanced ovarian cancer: A Retrospective Analysis.
Application study with vitamin C plus hyperthermia against cancer. High-dose intravenously administered vitamin C not only enhances the therapeutic effect of cytostatic tumor therapy but appears to work synergistically with whole body hyperthermia.
Clinical research on the improvement of therapy in brain tumors, prostate carcinomas, gastrointestinal tumors.
Application of various forms of hyperthermia in clinic and hospital, also in non-malignant diseases, e.g. Fibromyalgia. Infrared heat cabins for detoxification and immunomodulation, electrochemical therapy (ECT) in cancer.
Development of model studies for the evaluation of rehabilitation measures for cancer patients. Hartmut Keute / Friedrich Douwes area project owners, 1985 – 160 pages.
Study Participation
Prospective randomized study: chemotherapy versus chemotherapy plus "Biological Response Modifier" in metastatic colorectal carcinoma. Cancer occurrence 1986; 18: 155-163.
H. Sommer, G.J. Wiedemann, F.R.Douwes, A Randomized Phase II / III Trial Comparing Carboplatin-Ifosfamide (IC) IC-Chemotherapy Combined with Extreme Whole Body Hyperthermia in Patients with Recurrence of Epithelial Ovarian Carcinoma: DOLPHIN-1-STUDY 2003 Dolphin Study.
In the Media
The work of Dr. Douwes was subject of numerous films aired on television, such as award-winning "Life with Cancer" by M. Linke . German, Norwegian, Australian and American television teams documented his work with cancer patients in films and reports. Many national and international reports followed (@ TV, B.TV, Focus-TV, ABC / USA, Hungarian TV, etc.).
Obituary
Bad Aibling, 12.11.2022: It is with great sadness that we announce that a great person, doctor and founder of our clinic has passed away.
Full obituary